Over ons
Na jarenlang in de elektrotechniek, timmerwerkzaamheden en bouw te hebben gewerkt heb zijn wij in 2006 begonnen met KunststofKozijnenGrootHandel - KKGH". Het bedrijf is gestart met elektrotechniek en kleine timmerwerkzaamheden en in de loop van 2008 zijn hier kunststof kozijnen voor in de plaats gekomen.
In het begin nog met montage door onszelf en later zijn wij het montage gedeelte gaan uitbesteden met bedrijven waarmee wij in de loop der tijd een goede relatie en werkervaring hebben mee opgebouwd.
Doordat wij het graag betaalbaar en eerlijk willen houden voor iedereen zijn onze prijzen transparant en open in de webshop weergegeven en maken wij geen gebruik van dure showrooms of agressieve verkopers in dure pakken. U krijgt rechtstreeks te maken met de mannen die hun vak verstaan en allemaal jarenlange ervaring hebben in de praktijk.
Mede door dit uitgangspunt en de belachelijk hoge prijzen die er worden gevraagd voor een website ben zijn wij zelf een website gaan beginnen te ontwerpen.
Het is begonnen met KB-D.nl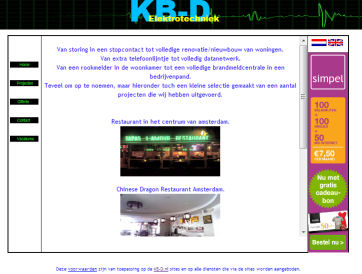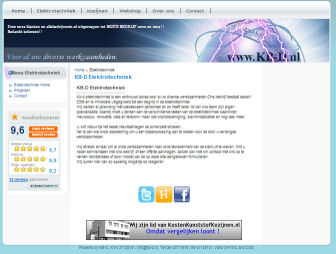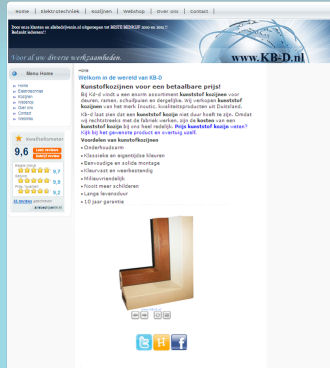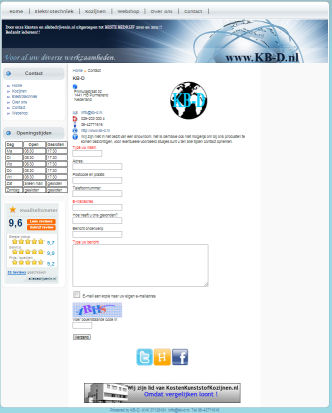 en later hieraan toegevoegd de webshop shop.kb-d.nl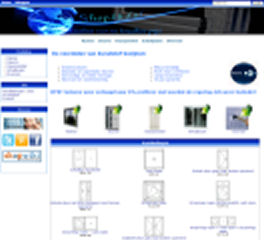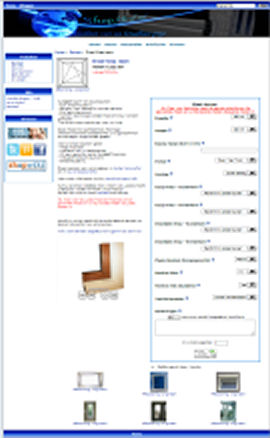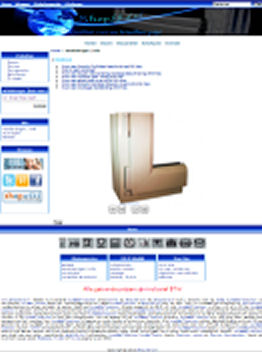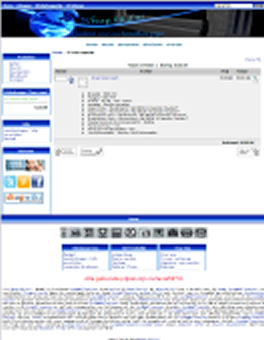 Niet altijd te zien aan de screenshots maar onder de kap hadden de website nog wel te wat te wensen over, maar door de goede service, scherpe prijs en uitstekende kwaliteit van de kunststof kozijnen hebben we KunststofKozijnenGrootHandel - KKGH weten uit te breiden naar een goed, succesvol, netjes en correct bedrijf.
Het ontwerpen van de websites is ondertussen een echte hobby van ons geworden en na vele slapeloze nachten en weinig vrije uurtjes is de website nu volledig getransformeerd in de website die u nu voor uw ziet met vele extra foefjes en truukjes allemaal ontworpen om ons en uw gebruikerservaring te verbeteren en te vergemakkelijken.
Doordat elk puntje en streepje van de website door ons persoonlijk is ontwikkeld en de uiterste zorg in is gestoken ervaren wij ook veel trots in de website en zouden we graag vernemen hoe u over de website denkt, of u nog problemen of vragen tegenkomt en of u nog aanvulling heeft. U kunt het allemaal plaatsen in ons
gastenboek
,
email
,
twitter
,
facebook
, of desgewenst
youtube kanaal
. Uiteraard wordt er met de grootste zorg naar gekeken en indien toepasbaar zal er aan worden gewerkt. Misschien wint u zelfs nog wel een
flinke korting
op de aankoop van uw kunststof kozijnen !
Wanneer alles op onze website goed duidelijk is zal dit voor u als gebruiker veel minder vragen oproepen en zullen er vele malen minder personeelskosten nodig zijn, zodoende kunnen de produktprijzen aan de lage kant blijven voor u als klant en heeft u toch het genoegen van een warm en comfortabel huis, geheel voorzien van kunststof kozijnen en jarenlang vrij van onderhoud en schilderwerkzaamheden. En mocht u ooit eens gaan verhuizen dan zullen de kunststof kozijnen een absolute meerwaarde geven op de verkoopwaarde van uw woning !
Met vriendelijke groet,
KunststofKozijnenGrootHandel - KKGH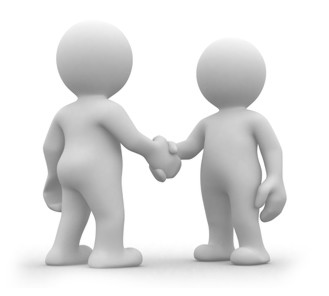 Betaalbaar en eerlijk
voor iedereen !
"Imagination is everything.
It is the preview of lifes coming attractions."
Albert Einstein